Denk Mal am Ort
Denk Mal am Ort
Bewegende Gespräche mit Familienangehörigen von aus Berlin geflohenen jüdischen Bewohnern unserer Wohnungen. Danke an alle, die den weiten Weg von Argentinien, Australien, USA, Niederlande und Großbritannien auf sich genommen haben. Dank auch an die Organisatorinnen Jani Pietsch und Marie Rolshoven. DENK MAL AM ORT ist eine einzigartige Initiative zivilgesellschaftlichen Engagements gegen das Vergessen.
Moving conversations with family members of Jewish residents who lived in our apartments in Berlin and had to flee. Thanks to all who came the long way from Argentina, Australia, USA, Netherlands and Great Britain. Thanks also to the organizers Jani Pietsch and Marie Rolshoven. DENK MAL AM ORT is a unique initiative of civic engagement for connecting neighbours.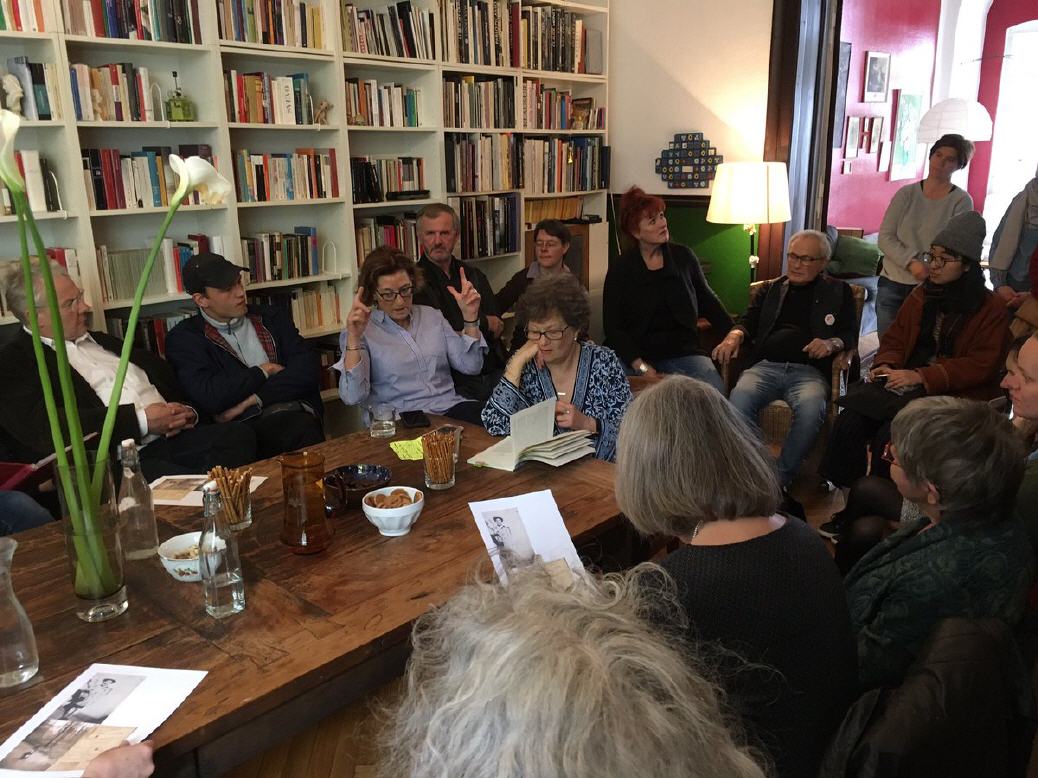 DENK MAL AM ORT
am 4. und 5. Mai 2019

Eine persönliche und individuelle Erinnerung an einen Menschen oder eine Familie, die in der NS-Zeit in Berlin verfolgt wurde.

DENK MAL AM ORT geht es um Menschen, die in der NS-Zeit aus der Gesellschaft ausgegrenzt, verfolgt, deportiert, ermordet wurden.

In diesem Jahr finden 26 Gedenkveranstaltungen statt. Hier finden Sie das Programm für 2019.
DENK MAL AM ORT is an initiative to commemorate the families who lived in our Berlin homes and were either deported or had to flee Germany in the 1930s and 40s. The family who lived in our flat are the Katzenellenbogens, a wealthy business man, who ran three furniture shops in Berlin, his wife and two sons, Ludwig and Herbert. They fled to Argentina in April 1939. On May 4, 2018, Ludwig, aged 92, arrived at our house with his daughter, son in law and grandson and a suitcase of documents and photos. We relived his childhood in our apartment, pieced together family events, the local neighbourhood and Nazi terror.
Medienecho 2018
Jo Glanville, Berlin homes open their doors for Holocaust memorial, Financial Times 20. April 2018

Anja Meyer, Berliner Morgenpost (Printausgabe), S. 10: "Erinnerungen bei Denk mal am Ort", Sonnabend, 5. Mai 2018

Anja Meyer, Berliner Morgenpost (online), Sonnabend, 5. Mai 2018

Katharina Meyer zu Eppendorf, taz, S. 43: "Gedenken an NS-Verfolgte. Lebendige Erinnerungen", taz-Wochenendausgabe, 5./6. Mai 2018

Vanessa Klüber auf rbb24, Sonnabend, 5. Mai 2018

Thomas Klatt auf rbb Kulturtermin/Religion und Gesellschaft, Freitag und Sonnabend, 4. und 5. Mai 2018

Susana Fernandez Molina auf Citycise

Sylvia Cunningham auf KCRW Berlin 104.1 FM, Mittwoch, 9. Mai 2018

Silke Ballweg auf WDR5 Reihe: "Neugier genügt", Dienstag, 8. Mai 2018
Zugriffe heute: 1 - gesamt: 1696.